Learner Approved Motorcycle or commonly referred to as LAMS. This is an area we commonly asked by students who  are Training for their Learners Permit at Ridetek, "What is the Best LAMS Motorcycle?"
When choosing a LAMS motorcycle, there are a few factors you should consider:
Your riding style: What type of riding do you plan on doing? If you're mostly going to be riding in the city, you'll want a different type of bike than if you're planning on doing a lot of touring or off-road riding.
Your budget: LAMS motorcycles can range in price from a few thousand dollars to over ten thousand dollars. It's important to set a budget before you start shopping so that you don't overspend.
Your experience: If you're a brand new rider, you'll want a bike that's easy to ride and forgiving.
The range of machine is choose from is incredibly vast. Our suggestion is to go to a reputable Bike Dealer and try to test ride as many as you can. If you wish to travel long distance maybe you are not going to feel comfortable tucked up  like a racer for a long distance.
If you live inner city and are considering to commute on 2 wheels. Perhaps a scooter is the way to go.
There are a total of seven different types of LAMS on the market. This means you have a good selection to choose from and as a result should be able to find the right style to match your riding ability.
1 – LAMS Scooters/Mopeds
In Victoria motorcyclists are lucky is we are permitted to park our bikes on the footpath as long as it does not obstruct pedestrian traffic. One thing to remember is that the engine is not permitted to be in operation when the motorcycle is on the footpath. If you live in the inner suburbs of Melbourne and have a desire to commute a scooter makes good sense. Its weight and ease of handling makes it extra convenient.
Parking your motorcycle on the footpath is legal in Victoria, unless specifically prohibited by signs at a location, and as long as they don't inconvenience, obstruct, hinder or prevent the free passage of any pedestrian or other vehicle. See rule 197 of the Victorian Road Safety Road Rules 2017.
This is a lighter, easier to maneuver and less costly to operate two-wheeled powered bike. They come with pretty much all the standard accessories that a full sized motorcycle comes equipped with – only on a slightly smaller scale. We recommend choosing a scooter  with Antilock brakes and don't forget to wear protective gear. For some reason many scooter riders are not vigilant in wearing protective gear.  There are now scooters right up in power including the BMW C 650 GT. At 261.00 kg the big scooters are not light weight. One of the most popular scooters is the Yamaha TMAX . The TMAX is 213 kg. One thing to consider with scooter is usually they are automatic. Just the one gear. We have noted the many students wanting a motorcycle license struggle with the clutch and gears of a motorcycle. This is because the vast majority of cars on the road are automatic transmission.
This is is another reason to consider obtaining an Automatic licence. Contact RideTek and we can discuss the options.
2 – Off-Road And Dual-Purpose
The most obvious difference from these types of motorcycles to those that are commonly used on city and country roads is the tires. As off road riding is on all kinds of different terrain, you need a bike with tyres  that can handle the changes in surfaces, surface materials and also be able to ride over small obstacles. This segment of motorcycling is seeing the most significant increase in sales. Whether you want a bike for commuting or getting away for the weekend check out the bikes in this segment. Many taller riders are enjoying the Dual Sport Bikes as they often provide more space to stretch out.
3 – Tourers
A touring bike is designed for long rides over highways for long distances. They come with storage capacity, comfortable seating and control positions to allow for long rides where you won't end up in pain because of uncomfortable positions being maintained over several kilometers. Traction control, ABS and cruise control are features that are common on touring motorcycles.
4 – Cruisers
Designed to be long and low for long distance riding, a cruiser is a popular choice of motorcycle for a new or inexperienced rider. The design places your feet near the ground and seating is much lower than in most other types of bikes. The low center of gravity combined with a longer wheelbase is a good choice for city riding as well if you have some distance to commute to and from work. If you are a bit vertically challenged Cruisers are a good choice.
5 – Standard/Naked
Although related to sport bikes, naked bikes are different. They have visible bodywork and provide a more comfortable seating for rides. They are versatile bikes that are easy to navigate traffic and tight spaces with. Plus, they are affordable on operating costs including fuel and maintenance. ABS is usually standard but it is safest not to assume and to ask if it is included as standard.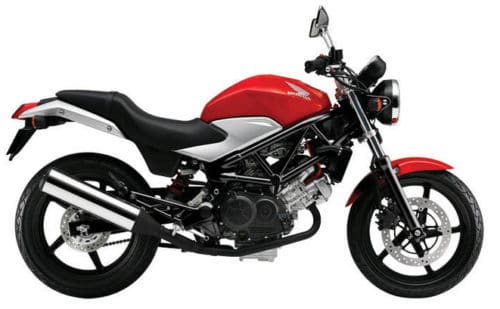 6 – Sport
Sport bikes are a completely different type of motorcycle. Sport bikes are popular for riders who enjoy getting out on the weekends and going for a run on mountain roads. We suggest taking a sport bike for a long test ride prior to purchasing as many riders find them uncomfortable for longer distance. There is a reason why the sales of Standard / Naked Bikes and Dual sports bikes are on the increase. Due to their versatility.
 Learner Approved Motorcycle – LAMS
A learner bike is all you will be able to legally ride for the first four years of holding your motorcycle license. There are several different LAMS available but they are generally considered 'low-powered' bikes. By definition a LAM is a motorcycle with an engine rated at 660cc or less and contains a power-to-weight ratio of no more than 150 kilowatts per ton. They are a safe tool for honing your riding skills and provide comfort and ease of operation.
Technologies Available in LAMS Bikes
Here is a look at a few of the technologies that are available on various motorcycles and what they do.
1 – ABS – Automatic Braking System
This is a tool that can be extremely valuable if you have difficulty judging distances. ABS can sense a locked wheel and will apply only enough pressure to the braking system to stop the bike without going into a skid. This gives you more control of your bike while stopping.
2 – Traction Control
This system monitors a potential loss of traction on the rear wheel during acceleration. If the speed differs between the front and rear wheel, the system adjusts the drive torque to keep the front wheel in contact with the road.
3 – Motorcycle Stability Control (MSC)
This is a technology developed to prevent wheel slippage when cornering. Data monitored includes wheel speed, lean angle, acceleration and braking pressure along with pitch angle. If the sensor picks up a potential loss of control it intervenes.
It is wise to check the VicRoads website as the list of Learner Approved Motorcycles is always changing. Check with VicRoads before you make a purchase – VicRoads