How To Select The Best First Bike?
Choosing your first bike is an exciting time, but don't let your heart rule your head. There are plenty of things to consider, from the legal requirements to the cost of insuring and running the bike.
Take your time and buy based on what you want to use the bike for and what you can afford.
Legal Requirements in Victoria
The first thing to consider is what bikes you can ride under state laws. Each Australian State has slightly different regulations, which is ridiculous situation as what may be legal in Victoria, you may face an infringement notice in NSW.
Key requirements
• You must be 18 years or older
• Be a resident of Victoria
• Not disqualified from holding/getting a leaner's permit
• Pass a two-day learner course
• Be medically fit.
Learner Course
In Victoria, you must complete a two-day learner course to obtain your leaner's permit. The modules have been designed to help new riders with technique, road rules, and safety.
The course includes
An eyesight test
A learner permit knowledge test
An on-road and off-road assessment.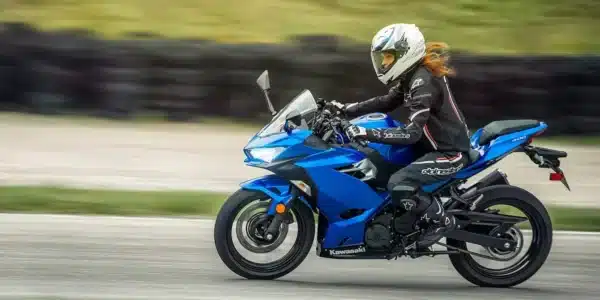 Motorcycle knowledge test
The motorcycle knowledge test consists of 32 questions. You must pass with 78% or higher to obtain your leaner's permit.
On-road assessment
The last component of the two-day course is an on-road motorcycle assessment. It will test your riding behaviours and your ability to manage a motorcycle. Before the assessment, you will have to demonstrate how you control the bike with skills you've learned throughout the course.
Ensure you bring
Long sleeve top and pants
Enclosed footwear (boots/ runners)
Protective eyewear
After completing all modules in the course, you will be issued a learner's permit that is valid for 15 months.
Running Costs
Aside from the cost of buying, you need to consider the long-term running costs.
The larger the engine and the more power it produces will significantly affect the cost of insuring your motorcycle. A more powerful bike will generally use more fuel, plus the cost of replacement parts such as tyres will be more expensive.
Bike Style
Style is highly subjective, but it can affect your choice. Do you like a particular style? It could be a challenge if you've set your heart on a large adventure-style bike but are only just over 1.5 metres tall!
Of course, the opposite applies, and if you are close to 2 metres tall, buying a small bike doesn't make sense.
Not a comprehensive list but a rough guide to the main styles of bikes available;
Adventure bikes – tend to have a tall seat height and can be heavy with a high centre of gravity.
Customs – low seat height and centre of gravity
Superports bikes – smaller and lighter than sports tourers, but usually a cramped riding position
Sports tourers – a good compromise between comfort, weight and performance
Old or New?
Used bikes will be cheaper, but brand-new bikes have distinct advantages.
Buying new, you get a manufacturer's warranty and a bike that has never been dropped or poorly serviced. You may be able to get a hire purchase agreement to finance the bike.
Buying a used bike saves you money on the purchase, but you need to check the bike's history carefully. In addition, a thorough check of the bike's condition is required. If you are not confident doing this, take a friend who is or have the motorcycle inspected by a mechanic.
Engine Size
The size of the engine you are legally allowed to ride may be dictated by state law. Even if you are not limited, starting with something manageable that you can enjoy riding without terrifying yourself makes sense!
Many people think a supersport 600cc bike is an excellent first choice, but personally, I'd disagree. Yes, they are relatively light bikes, but the engines are tuned to be revved and do not provide good low-down torque. On top of that, the riding position tends to be extreme and not very comfortable.
A 400cc to 500cc parallel twin motorcycle like the Honda CB500F would make an excellent choice for your first bike. It has Honda build quality and reliability, an engine that can be easily restricted to suit your licence restriction, and it's an easy-to-ride motorcycle.
Physical Size and Weight
We briefly touched on this when we talked about bike styles. Adventure-style bikes are generally big and heavy, so they are not ideal for beginners. They also tend to have their weight higher up, making them top-heavy.
You might consider a custom, but this bike style tends to be heavy. The one significant advantage of customs is that the weight is low down, and even shorter people can get their feet flat on the ground. A big confidence booster.
And Finally
For your first bike, gaining confidence is vital, so a relatively light and easy-to-handle bike is preferable, and if you can get your feet flat on the floor, all the better.